Megatune Setup
Setting up Megatune:
Step 1:
Open megatune
Go to file > Configurator > car1 >settings > Code_variant

Make sure MSNS_EXTRA "James Murray and Phil Ringwood's MSnS extensions" is selected

Go to > Lamda_sensor
select:

AEM_LINEAR "AEM Gauge AEM-30-42xx"
or
LC-1 Linear 0-5v 10:20 AFR

File > Save
Exit.

I also like to uncheck Celsius and kPa.
IF 4-BAR MAP SENSOR
Go to > MAP_Sensor
Select 400kPa
---
Step 2:
Go to c:\program files\megasquirt\car1\mtcfg\custom.ini
Change this:
to this:
you can shange the settings to whatever you'd like, this allows autotune to pretty have tune in all situations.
If for example you gave it a 100-255 MAP, it would only tune in boost…
---
Step 3
At this point you need to load a base map, here is one to get you started:
This is for a 93 miata running 13 psi with 460cc injectors.
YOU WILL STILL HAVE TO TUNE IT!!!!
IT WILL NOT WORK PERFECT FOR YOUR CAR!!!!
ITS JUST TO GET YOU STARTED!!!
See the Megatune Files for more!
FUEL: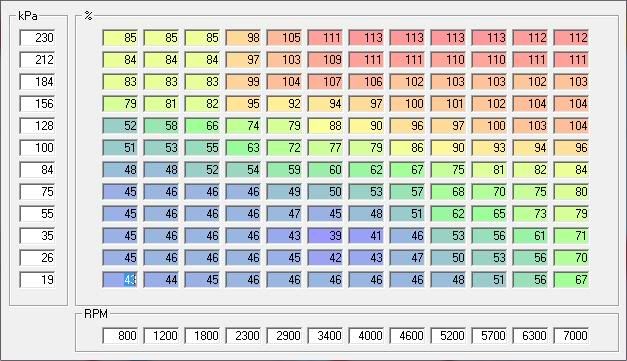 SPARK: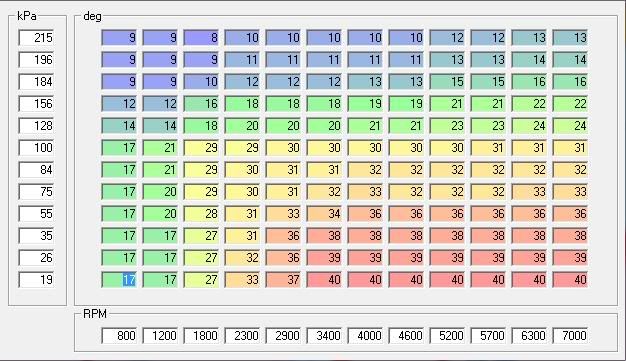 Configuring your map:
The first thing you have to do it match the ignition timing!
MS has no idea what your timing is. But if you tell it is all good then it will believe you.
Start and idle the car and open up Spark > Spark Settings.
To adjust the timing you adjust the trigger angle, that's it.

First change the -10 to a 10. This is the fixed angle. You're telling Megasquirt that you only want a static 10°. You never want it to give you any other timing.
Use a timing light and verify the timing is correct. If it's not a match, change the trigger angle a few points and try again.
Once your timing light indicates 10°, change the 10 back to a -10. You are now telling Megasquirt to change the timing based on the preloaded map I gave you. If you go back out with a timing light you should see it changed to the 15-18° range.

You're now ready to tune this baby up.
Make sure that the "trigger angle addition" is set to 0
page revision: 3, last edited: 17 Dec 2008 19:13